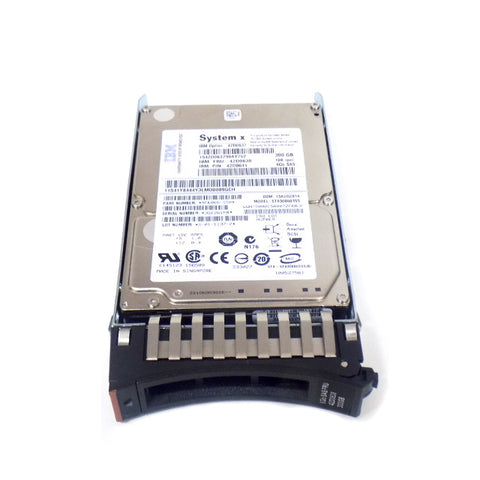 42D0637 IBM 300GB 10K RPM Hot Swap Form Factor 2.5 Inches SFF Slim SAS Hard Drive
Free Same Day Shipping
Monday - Friday Before 3:30 PM EST
We accept all major credit and debit cards
Replacement Warantee
100 % Customer Satisfaction
The IBM 300GB 10K rpm SAS-2 6GBps 2.5-inch SFF Slim HDDs provide a 2.5-inch form factor that can be used as Hot-Swap drives. The addition of a 300GB 10K rpm offering to the System x and BladeCenter blade family of 2.5-inch SAS HDDs makes it one of the highest-performing SFF options. These drives are positioned at the top of the SAS SFF HDD line based on increased performance and capacity. 
Hassle Free Returns
TriMicro Data prides our selves on hassle free returns. You may return most new, unopened items within 30 days for a refund subject to a restocking fee. If the return is because of an error on our part we will pay shipping and of course issue a full refund. Refunds are only issued once the products are delivered back to us. Once received we will then process the return and issue the refund which then takes a few days depending on your bank and the credit card processing company. If a product is damaged or dead customers must contact us within 15 days for a full refund.

Rules and Restrictions
Items must be returned in 30 days or less
Returns are subject to a 20% restocking fee
The form will not submit with out all the information required.
Shipping and handling costs are non-refundable.
Product returns must be received within a week of return authorization.
If you have any questions please call us and we will be glad to help you.